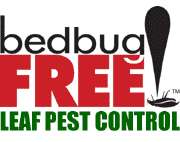 At Leaf Pest Control we understand that when you have bed bugs you want a company that is experienced and specializes in bed bug control. You don't want to take a chance that your problem will not be solved and your money wasted.
Leaf Pest Control is an experienced bed bug service company and a specialist in bed bug control. Whether in your home, business, hotel, school, hospital, office, nursing home, university, apartments or any other facility, Leaf has the bed bug expertise you need.
Leaf's bed bug treatment methods are endorsed by leading bed bug entomologists. As a result, Leaf was invited to join an elite network of like-minded companies that adhere to the highest standards in bed bug control…Bed Bug Free ( www.bedbugcentral.com ). Click on the Bed Bug Free Logo below to find out more: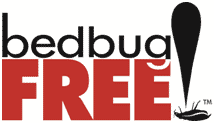 Leaf Pest Control utilizes Integrated Pest Management (IPM) practices to attain the expected results while minimizing risk to people, pets and the environment. But Leaf goes beyond the rigorous standards of Bed Bug Free, employing the use of a specially trained, bed bug detecting canine that pinpoints where bed bugs are hiding and enables us to zero in on them. Leaf's one-two punch with the canine and expert technicians has proven to be a winning combination.
Leaf has the experience and expertise you need to solve your bed bug problem. Leaf's service area includes Pittsburgh and Erie, and Allegheny, Beaver Butler, Lawrence and other western Pennsylvania counties; Youngstown, Akron and Canton, and Mahoning, Columbiana, Jefferson, Stark and other eastern Ohio counties; and, Morgantown and Wheeling, and Hancock, Ohio, Monongalia, Harrison, Marion and other counties in northern West Virginia.
Don't let the bed bugs bite your family or guests…call Leaf Pest Control today (724)774-3630 if you have a problem , before it gets worse.
Below is a list of our other Specialized Services with links to pages containing more information: