If your home has a crawl space instead of a basement or if your basement has high humidity or moisture, Leaf has the solution for you. Our foundation ventilation system and moisture barrier installation can help prevent damage to your home caused by fungi and insects. Damage to homes by these wood-destroyers is over $1 billion annually.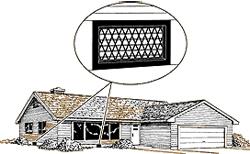 Temp-Vents
Temp-Vents are specially designed, non-electric vents that automatically open and close based on air temperature. They are totally rust-proof and may be painted. Once installed by a Leaf professional, the Temp-Vents will allow the proper amount of air to circulate, reducing moisture problems and musty smells.
Under unusual conditions such as high moisture conditions in a crawl space, Power Temp-Vents may need to be installed. This vent provides electrically forced ventilation and is controlled by an electric humidistat or thermostat.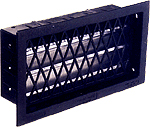 Added Benefits of Temp-Vents Include:
No fuss—automatically opens and closes with temperature changes.
Screens on both the inside and outside of the vent prevent insect and rodent entry.
Helps to save heating and cooling costs.
Improves the value and appearance of your home.
Helps prevent frozen water and sewage lines.
Moisture Barriers
A moisture barrier is designed to be installed over soil in a crawl space or basement. Leaf's moisture barrier will not allow moisture to penetrate the barrier, stopping condensation on floor joists, sub flooring and insulation.
By stopping moisture, Leaf's moisture barrier will help to protect your home from wood-destroying insects and fungi that thrive on moisture.